For such a quaint small town, there are a lot of restaurants in Hartville to choose from.
From breakfast, lunch, and dinner, there are a ton of great options to choose from. Here are some of our favorite Hartville restaurants.
1. 1875 Winery
If you forced me to pick just one Hartville restaurant above the rest, my choice would be 1875 Winery.
Our family loves this place so much that my wife and I went here for dinner on our first anniversary!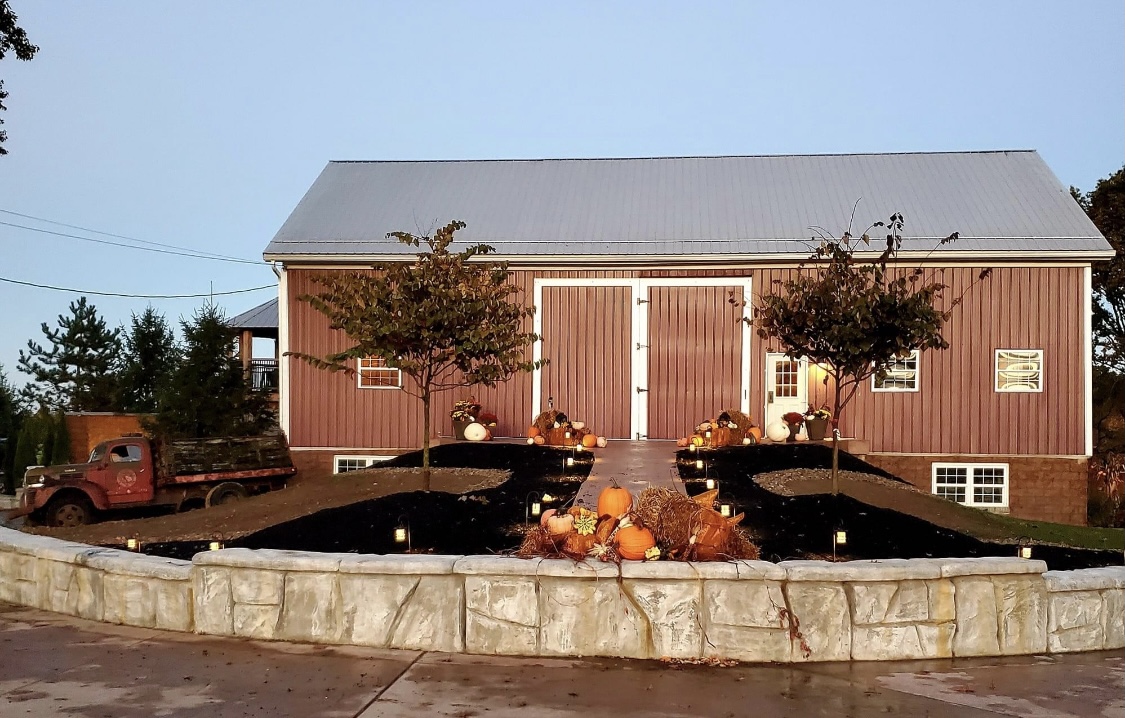 1875 might be the most aesthetically pleasing restaurant around offering a rustic interior and loads of outdoor seating. Take a walk around the grounds and see the picturesque 2.5-acre lake.
There are two beautiful gazebos on the lake that even make this winery a great wedding venue!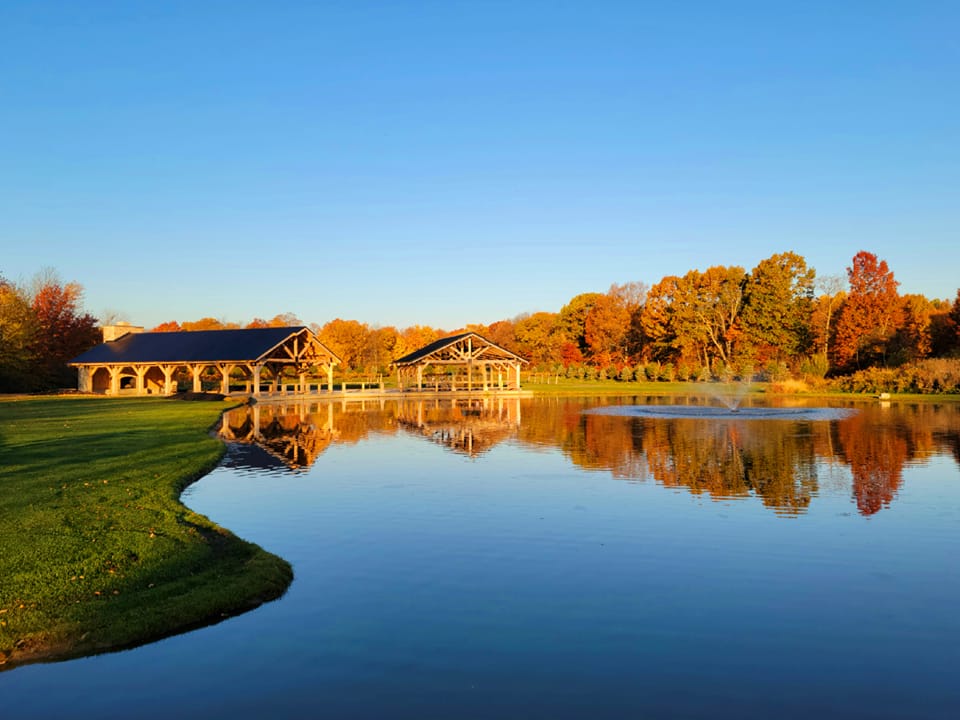 As you can guess, they offer a range of their own wines. Along with wines they have terrific signature cocktails and beer menu as well.
Along with drinks, 1875 has robust lunch and dinner menus. I love their pizza selection! All of their pizza dough is rolled daily on-site.
Going with a group? Order a few different appetizers and share them with the table, you won't be disappointed.
Address: 109 OH-44, Hartville, OH 44632
2. Front Porch Cafe
If I'm looking for something a bit more laid back, I tend to pick Front Porch Cafe 9 times out of 10.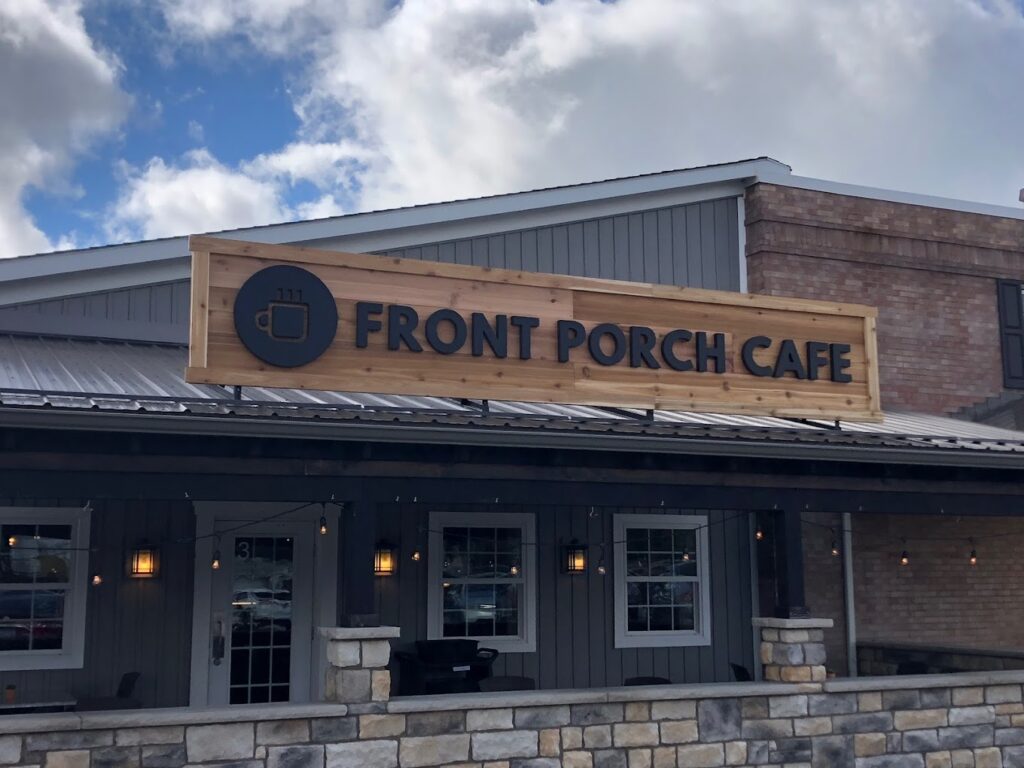 Their breakfast and lunch options are great for a quick bite. From chicken and waffles with a side of bacon to flatbreads and paninis you'll be glad you gave it a try.
I'm personally a sucker for a good bagel sandwich. And Front Porch knocks thier's out of the park!
Pair your meal with some locally sourced coffee. They also offer a variety of fresh baked goods and treats from local businesses.
I can't tell you how many times I've taken my laptop to Front Porch and plugged away for hours from one of their booths.
Address: 932 W Maple St Hartville, OH 44632
3. Hartville Kitchen
Hartville Kitchen is a mainstay in the village of Hartville. Nestled right next to Hartville Hardware and the Hartville MarketPlace & Flea Market.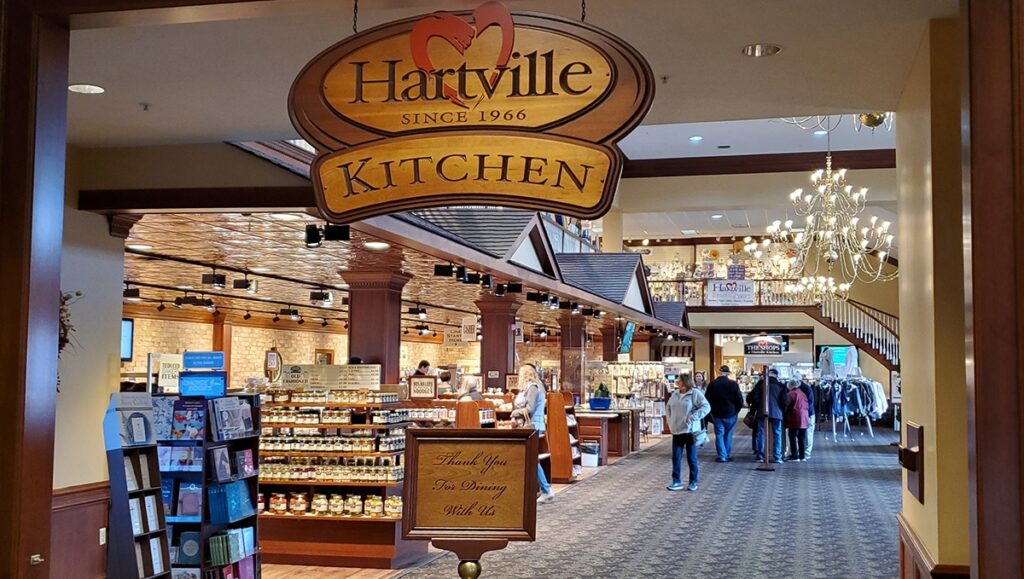 Hartville Kitchen offers an array of homestyle food that will have you feeling like you're sitting at Thanksgiving dinner.
The options are virtually endless. They offer dine-in, carry-out, and even catering options!
If you love the food enough, you can buy their dressings, oils, and baked goods and take them home with you.
After you've enjoyed your meal, walk over to their shops that offer 25,00 square feet of shopping for the whole family.
The Hartville Kitchen is a must for anyone visiting Hartville.
Address: 1015 Edison St. NW Hartville, Ohio 44632
4. Maize Valley
Maize Valley is one of the best spots in Hartville.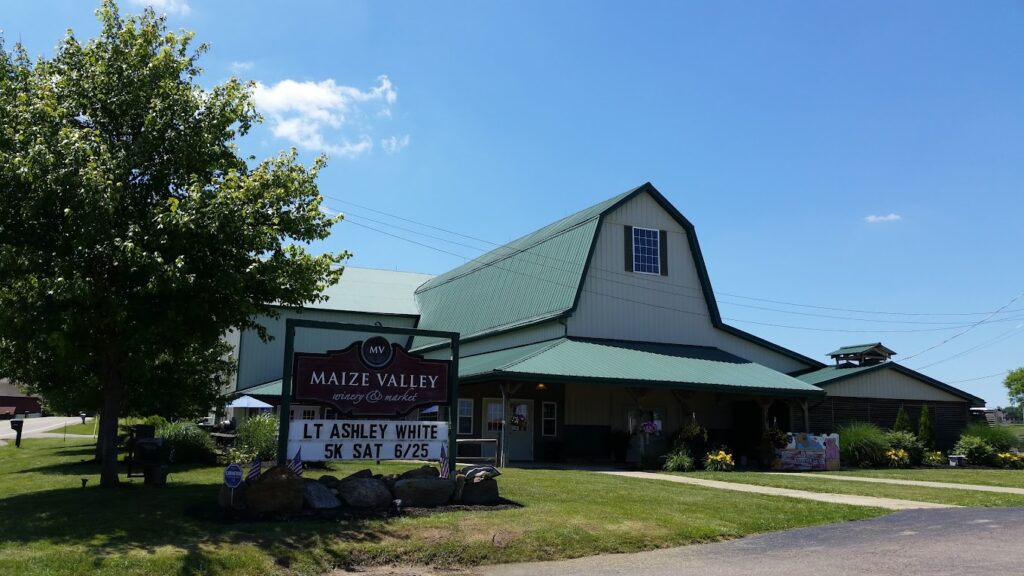 Their menu features food and beverages the whole family will love.
Maize Valley truly has something for everyone! Take this blurb from their own website:
"Maize Valley Winery and Craft Brewery offers a wide variety of experiences – wines ranging from sweet to dry, beer from light to dark, light appetizers to sophisticated five course meals, shopping our market full of homegrown produce, delectable meats and cheeses, mouth watering sauces & condiments, fresh baked breads, live music, special events, and outdoor fall family fun."
This place has been a local staple since the 1960s. It isn't just a winery and brewery, it's a 750-acre farm.
Our favorite time to visit Maize Valley is certainly in the Fall. They have endless Fall Fun options. From corn mazes, pumpkin patches, tractor pulls, and everything in between. If you're in town in Fall, check out Maize Valley!
Address: 6193 Edison St. NE Hartville, OH 44632
5. Grinders Above & Beyond
If you love sandwiches, look no further than Grinders!
They offer a lot more than just sandwiches, but if this is your first time trying Grinders Above & Beyond, I highly urge you to try one of their signature Grinders.
You can't go wrong with any of them, but my personal favorite is the Original Eastern.
They also offer a wide variety of soups and salads for a lighter option.
I've been to numerous parties and events catered with Grinders' sandwiches and wraps and they always steal the show!
Address: 1212 W Maple St, Hartville, OH 44632
6. Carlo's Trattoria
In the mood for Italian? Look no further than Carlo's Trattoria!
Driving by, this spot is very unassuming. But, once you step in the door, you're transported into yesteryear in this quaint Italian diner.
You'd be hard-pressed to find a better Italian meal anywhere around.
If I had to choose favorites, I'd go with the Chicken Parmesan or the Angry Aglio. However, you won't be disappointed with any of these options on their menu.
If your meal wasn't enough, they offer a range of Italian desserts including tiramisu, cannolis, and more.
Address: 733 W Maple St, Hartville, OH 44632
7. Meet Me At Irene's
Looking for a nice, wholesome, no-frills American diner? Meet Me At Irene's provides exactly that!
This diner is a perfect spot for breakfast or lunch, especially if you're eating with the family.
The cozy space and wonderful service will make you feel immediately at home.
They have all the traditional diner food you've come to love along with some of their own creations. Cinnamon Rolls French Toast, YES PLEASE!!
Meet Me At Irene's is one of the best diners you're going to find around Hartville.
Address: 264 Kent Ave NE, Hartville, OH 44632
8. Samanthas Frontier Restaurant
Samanthas is another wonderful family diner in Hartville.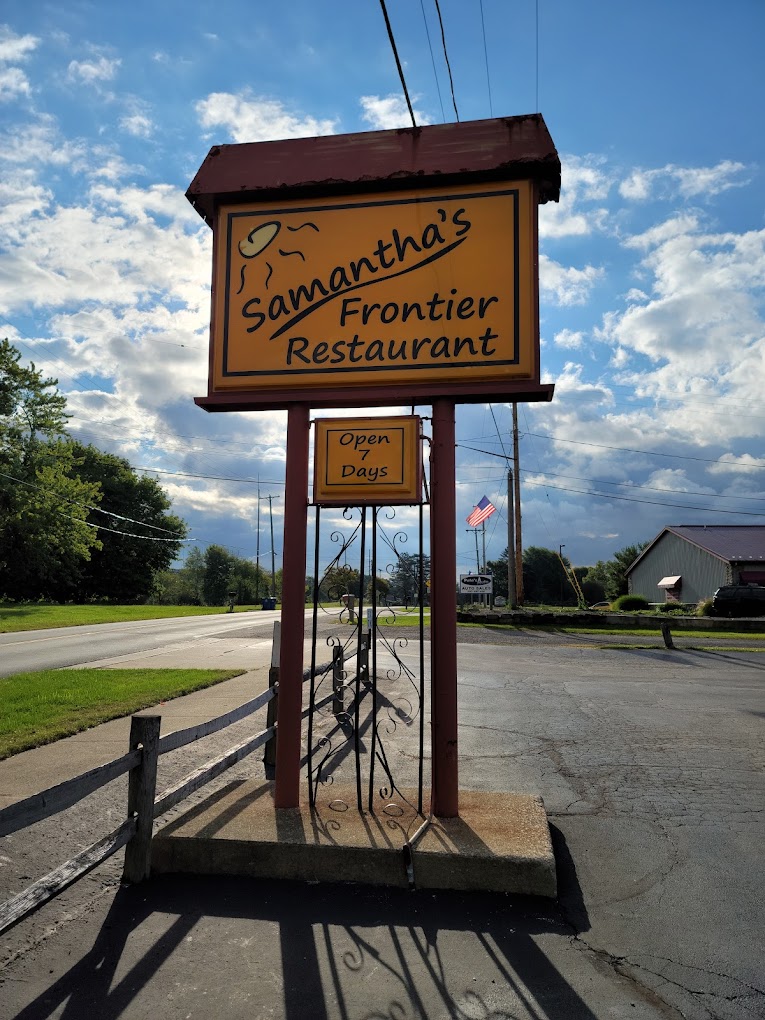 It doesn't get any more classic than Samanthas Frontier Restaurant!
They offer both breakfast and lunch options. However, I highly recommend starting your day with Samanthas for breakfast.
Sam's "Original" Breakfast is a must-try classic option that will please anyone. But, if you want to switch things up a bit, try Sam's Breakfast Skillet & Toast.
Enjoy your breakfast with a hot cup of coffee in a brown coffee cup that makes you feel like you're stepping back in time. You know exactly which coffee cups I'm talking about!
Address: 418 E Maple St. Hartville, OH 44632
9. Aida's Bakery
I'd be remiss if I didn't mention Aida's Bakery.
Aida's Bakery isn't your typical restaurant, however, it's something I always make sure to grab if I find myself at the Hartville MarketPlace.
They offer a variety of Italian goodies that are perfect for walking around the Flea Market and enjoying a summer day.
You can't go wrong with anything they have to offer, but, if you're undecided try one of their Rolls.
They also offer cheesecake, cannolis, and much more. They even have catering options!
If you're visiting the Hartville Flea Market, please don't forget to try this Hartville staple.
Address: 1289 Edison St NW #107, Hartville, OH 44632
10. Almost Heaven Ice Cream
Looking for something sweeter? Check out Almost Heaven.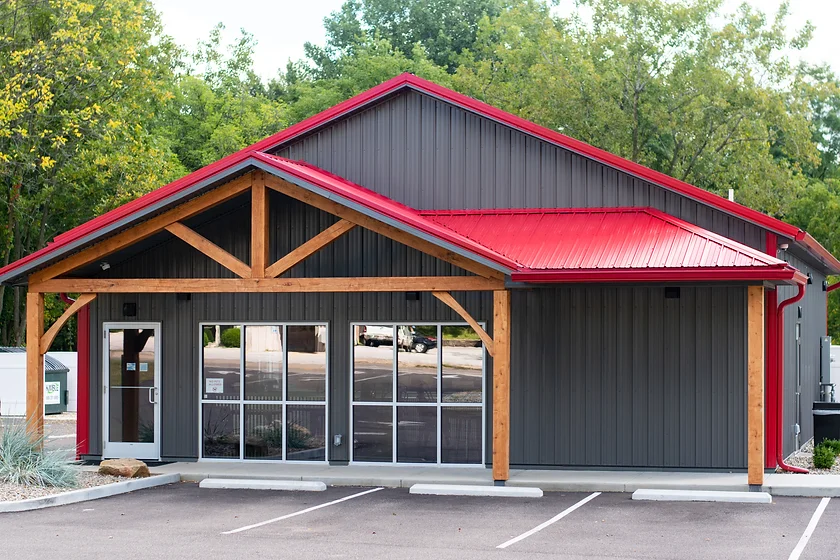 Almost Heaven is a newer kid on the block in Hartville, but they have burst onto the scene as a local favorite.
They offer a vast array of sweet treats for the whole family. Their portions are nothing to sneeze at either, you're getting more than your money's worth for their ice cream and desserts.
Almost Heaven also has a drive-thru for those in a hurry!
They also have a great rewards program. If you're local, get on this and start earning rewards and freebies.
Address: 624 Prospect Ave S, Hartville, OH 44632
11. New Baltimore Ice Cream
Another great ice cream spot in Hartville is New Baltimore.
New Baltimore is the staple for ice cream in Hartville. They have two locations as well!
Their flagship stand is right down the road from 1875 Winery, making it a great pair if you save room for dessert after drinks and dinner.
The original stand also offers a range of flavors that'll have you struggling to make a decision.
Their second stand shares space with Rolling Greens Miniature Golf. This is perfect for a fun day in the sun. Play a round of mini golf and top it off with an ice cream cone.
The only downside to the second stand is that they are sometimes limited on flavors.
Address: 14738 Ravenna Ave NE, Hartville, OH 44632
Conclusion
Hartville has you and your stomach covered. From breakfast, lunch, dinner, and dessert we've given you all of the best Hartville restaurants.
We hope this guide helps you find the perfect eatery!
Have a favorite Hartville restaurant? Let us know in the comments!