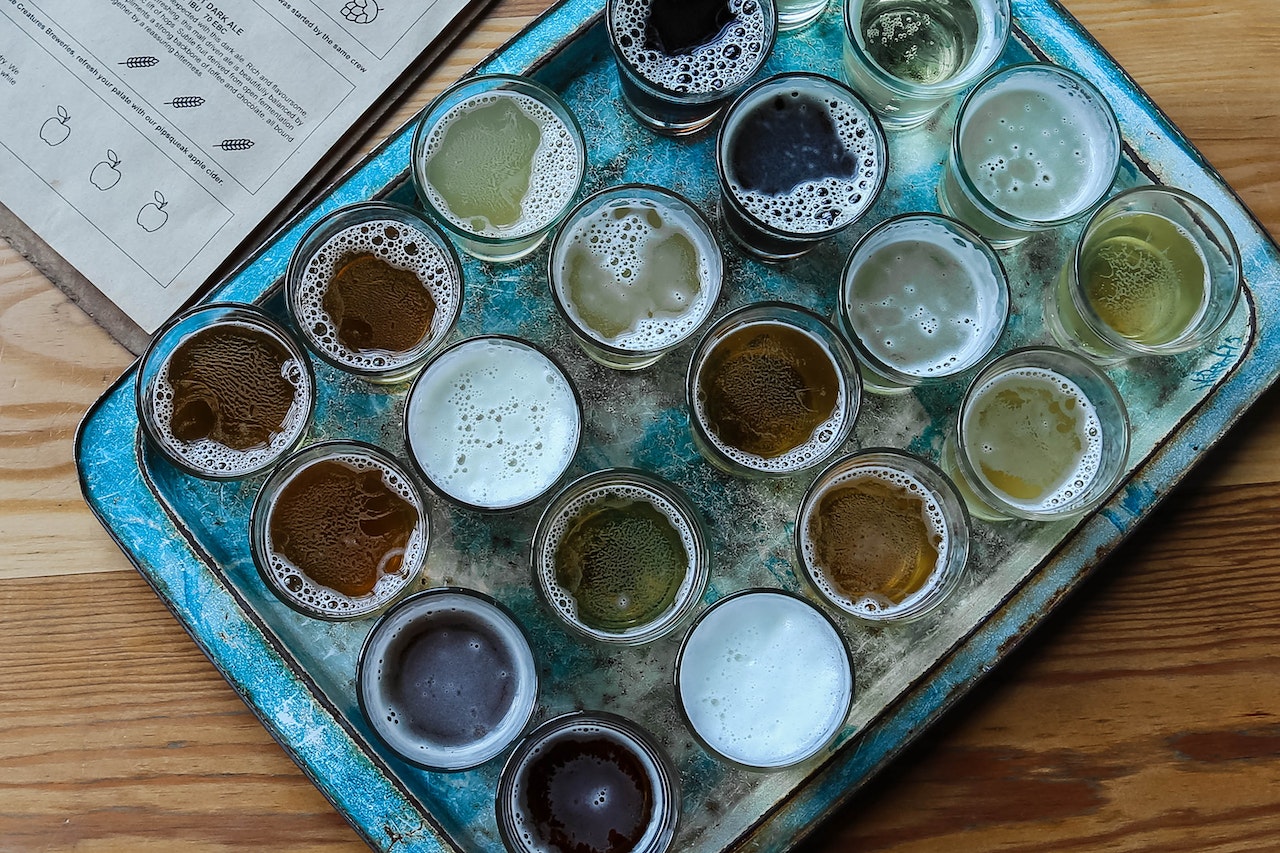 Craft breweries are at the peak of their popularity and don't seem to be slowing down. Almost anywhere you go, you're sure to find a local brewery whipping up delicious drinks. Akron has had a bustling brewery scene for decades now.
Here are our 8 favorite Akron breweries:
1. Thirty Dog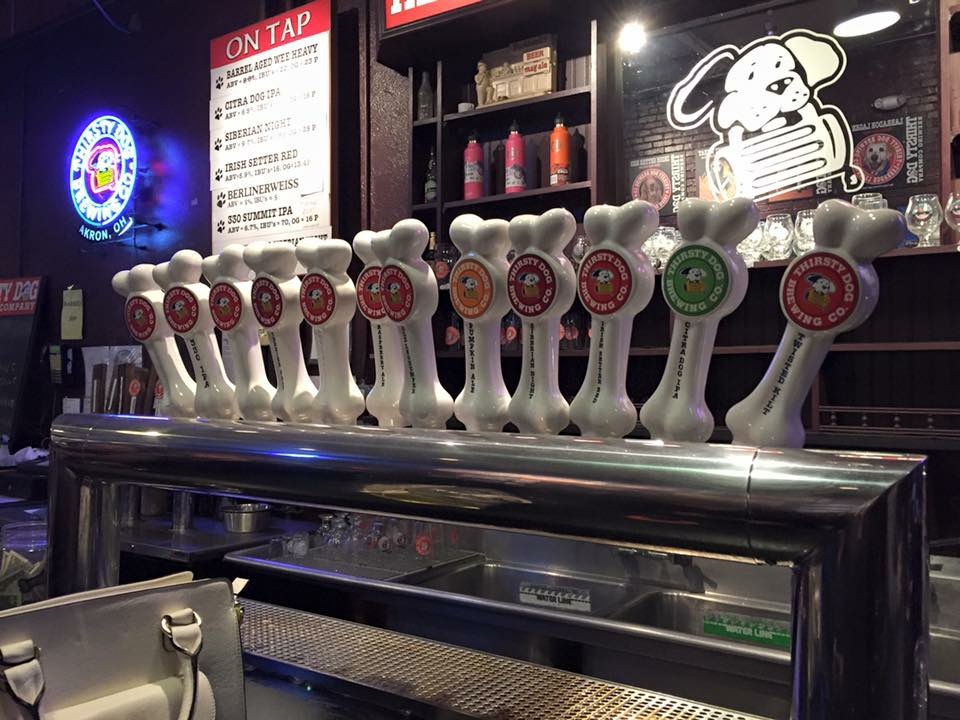 Thirsty Dog is one of Akron's oldest craft breweries.
Once you see and taste their lineup of beers, you'll see why.
Depending on the season, Thirsty Dog offers over 35 beers to try! It's one of the largest selections you're going to find in the area.
Many of their beers are even sold in local grocery stores. So, if you don't have time to visit them in person, you've got to pick up a pack and try for yourself.
The fun atmosphere and knowledgeable staff make the Thirsty Dog experience one you need to try.
Their Taphouse also has a large menu of food, making it an excellent place to take in an evening in Akron.
Address: 587 Grant St. Akron, Ohio 44311
2. R. Shea Brewing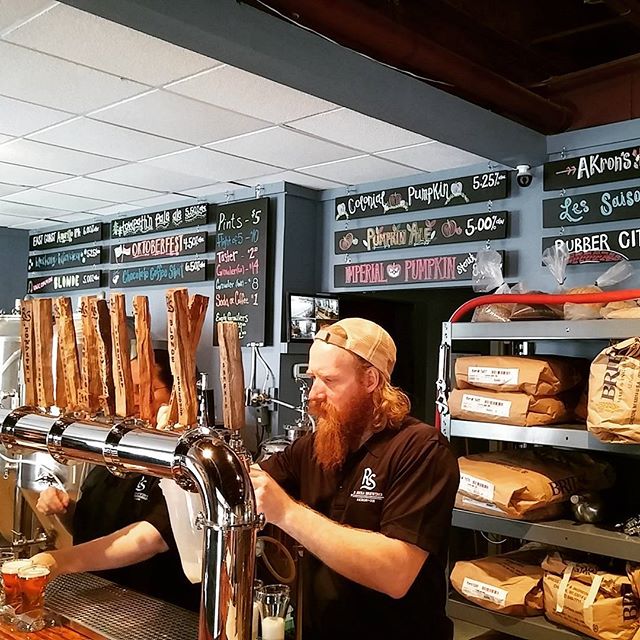 R. Shea Brewing, in my opinion, offers one of the most unique brewery experiences in Akron. The science and knowledge that goes into crafting each one of their beers is unmatched.
In 2015, R. Shea opened their flagship location in Merriman Valley, a mall, but happening, Akron location. The brewery was so popular that they've already opened up a second, larger location in Canal Place downtown!
The amount of thought and time that is put into their drinks is reflected when you sip them. You'll find some popular styles like Double IPAs, Imperial Stouts, Pumpkin Ales, and much more.
The hard part is choosing which location to visit. If it's your first time, I recommend trying the original location in Merriman Valley, but, if you want to check out the new digs in Canal Place, you won't be disappointed either! You can also check out what beers are on tap at each location and choose a spot from that.
Canal Place: 540 S. Main St. Suite 214 Akron, Ohio 44311
Merriman Valley: 1662 Merriman Rd. Akron, Ohio 44313
3. Akronym
Akronym has burst on the scene as one of Akron's most popular breweries.
No matter your beer preferences, Akronym has something for you!
With over a dozen beers on tap at a time, I'm confident you'll find some drinks you'll love. If you really fall in love with one of their brews, they have a variety of growler and take-home options.
Akronym doesn't stop at beer. They also offer a wide range of delicious food that landed Akronym on our list of the best downtown Akron restaurants!
Address: 11 South Main St. Akron, Ohio 44308
4. Lock 15 Brewing
Looking for a truly unique brewery experience? Go check out Lock 15 Brewing.
The atmosphere gives a truly intimate experience. They also have an expo-style kitchen where you can see the food being made.
Good luck smelling that delicious food without ordering some for yourself. Lock 15 was actually featured as one of the best Akron restaurants!
Food aside, they offer a ton of amazing beers year-round and seasonally. And their beers feature some of my favorite artwork around.
Address: 21 West North St. Akron, OH 44304
5. Hoppin' Frog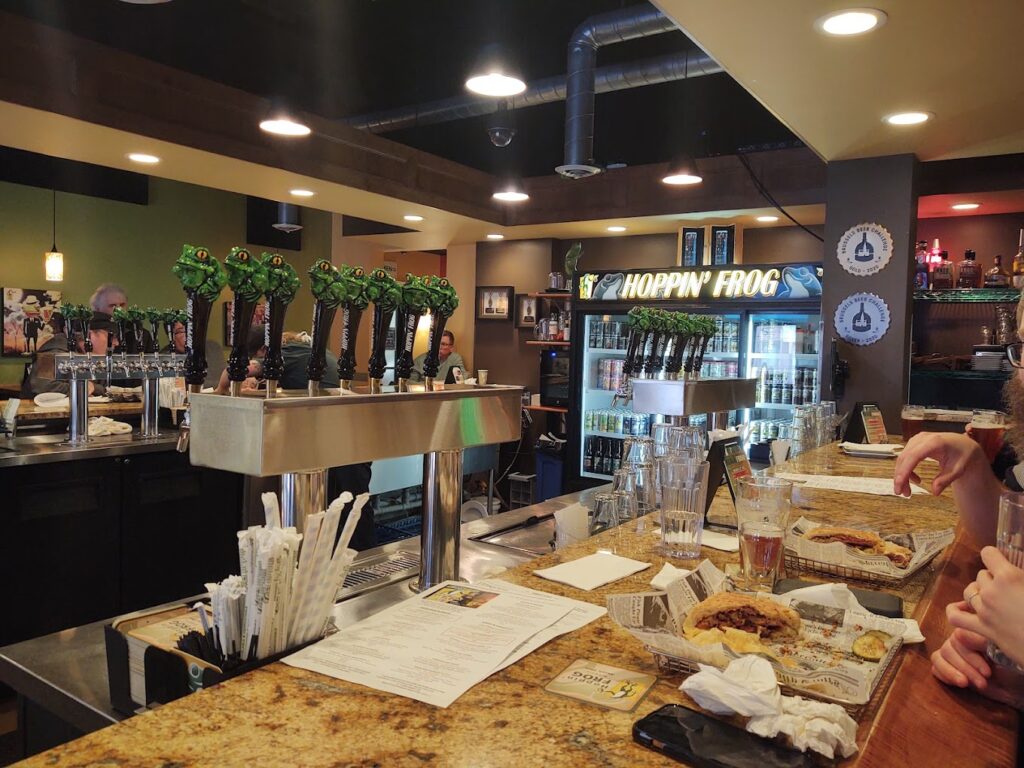 Hoppin' Frog is one of the more underrated Akron breweries in my opinion! It's one of the unsung heroes of the Akron beer scene.
A bit off the beaten path, you'll have to go about 10-15 southeast of downtown to visit Hoppin' Frog, but you'll be glad you made the trip.
They offer one of the most diverse beer menus around, making it a perfect place for picky drinkers.
At any given time, Hoppin' Frog has 20+ beers on tap to choose from.
Address: 1680 East Waterloo Rd. Akron, OH 44306
6. Missing Falls Brewery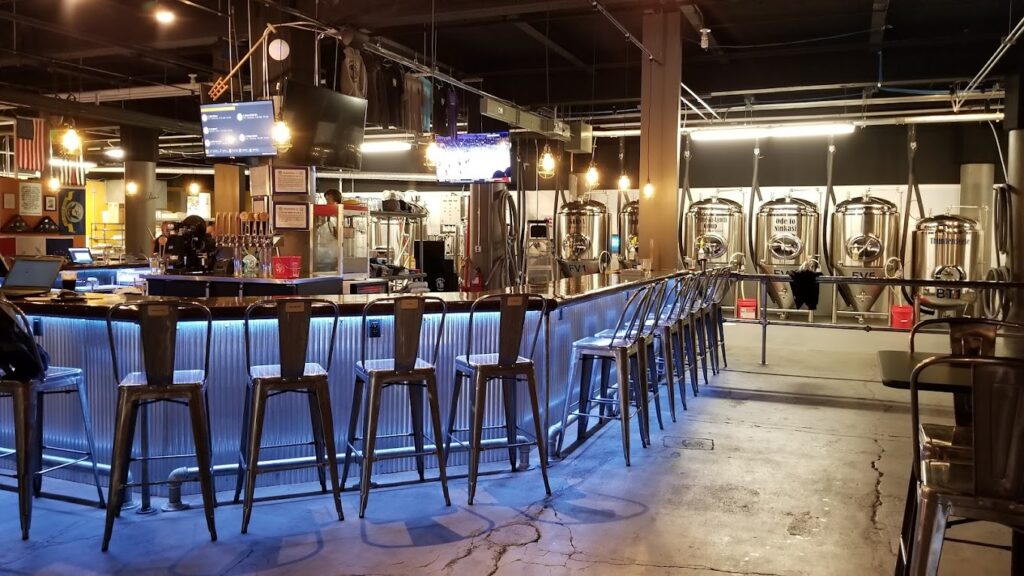 Next up on our list of Akron breweries is Missing Falls Brewery.
Like many craft breweries, Missing Falls started from a collective of home breweries who shared a passion for craft beers.
Missing Falls aims to source the finest local ingredients to support fellow Akron businesses.
They are located right next door to R. Shea's Canal Place location. Make an event of it and hit up both breweries!
Address: 540 S Main St Suite 112, Akron, OH 44311
7. HiHO Brewing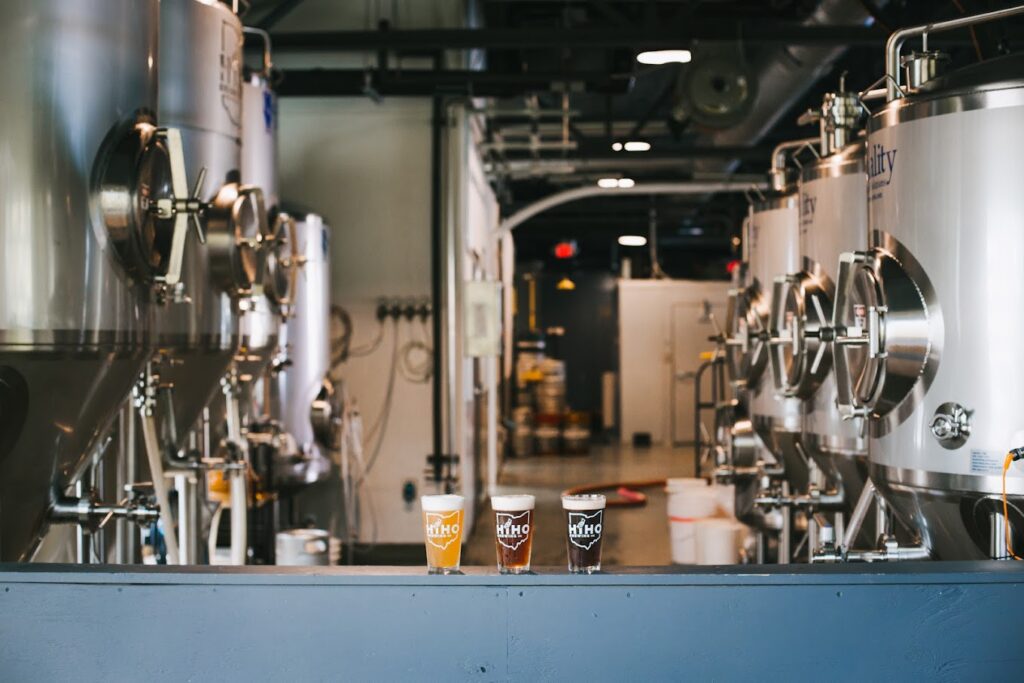 Just north of Akron is neighboring Cuyahoga Falls. There are many Cuyahoga Falls breweries, and one of the flagships is HiHO.
HiHO is one of my favorite places around. Their location is amazing for a stroll through beautiful downtown Cuyahoga Falls.
They offer more than 20 beers on tap. They also have a variety of wines and other local spirits. Even if beer isn't your drink of choice, you'll love HiHO!
They're also one of the best restaurants in Cuyahoga Falls.
If you find yourself on the north end of Akron, take the trip up the road to HiHO Brewing.
Address: 1707 Front St. Cuyahoga Falls, OH 44221
8. Missing Mountain Brewing Co.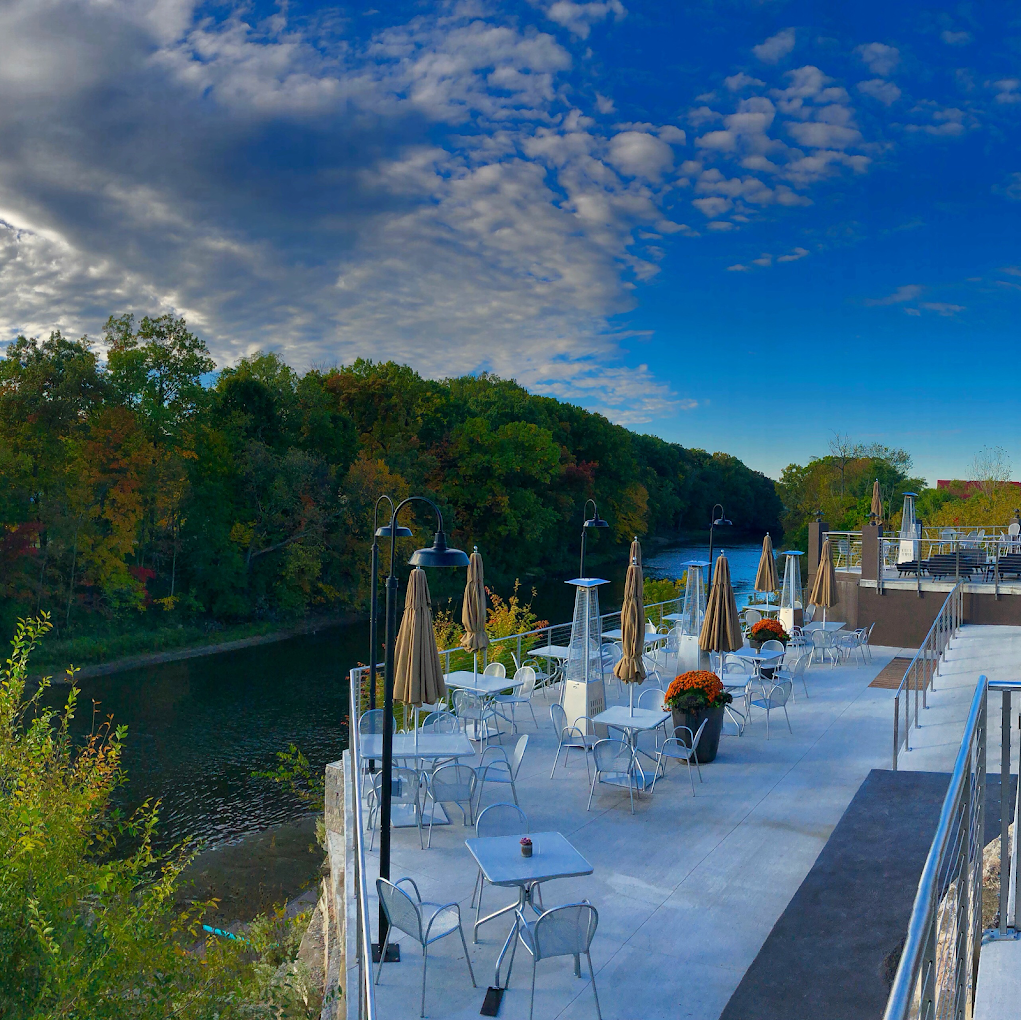 If you're looking for the best view while enjoying craft brews, you must try Missing Mountain.
Like HiHO, this brewery is in Cuyahoga Falls. This brewery sits right on and overlooks the famous Cuyahoga River, making it one of the best outdoor drinking and dining experiences around.
Ever since they opened their doors in 2018, Missing Mountain Brewing has been a local favorite. You can drive by any time of day and you'll see a full parking lot of people enjoying local beers and the view.
Address: 2811 Front St. Cuyahoga Falls, OH 44221
Conclusion
The love for craft beer around the country has exploded in the past decade and Akron is no exception. With so many Akron breweries to choose from, we hope you found our guide helpful. Go enjoy some Akron brews today!
What's your favorite brewery in Akron? Let us know in the comments!