Hartville is a relatively small town. With that, there aren't a ton of options for local pizza. BUT, there are still some good pizza shops in Hartville!
Here are some of our favorites:
1. Kraus' Pizza
If I had to choose just one Hartville pizza spot, I'd go with Kraus'.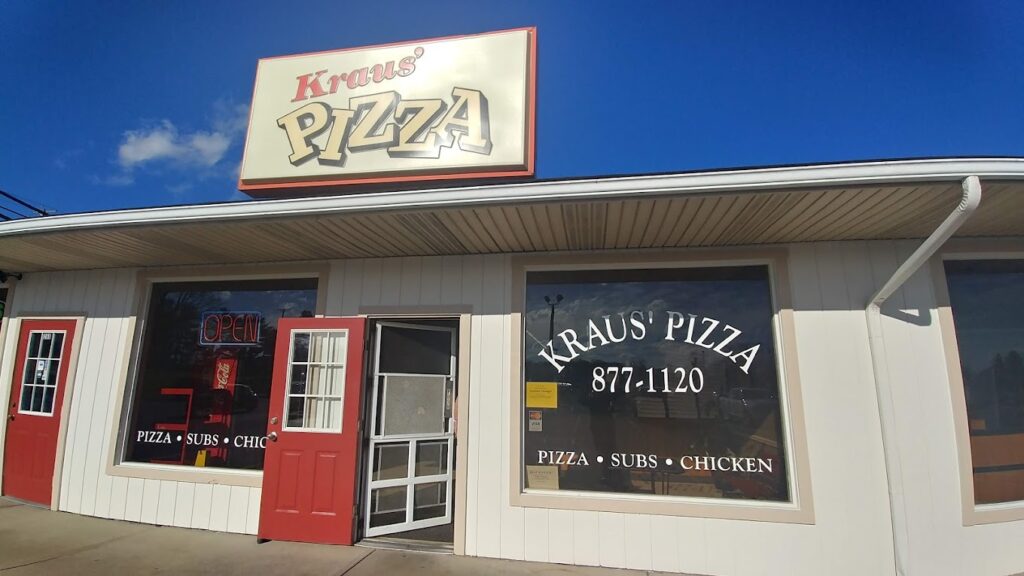 Kraus' Pizza has a strong presence in the greater Canton area with 10 locations in Stark, Wayne, and Tuscarawas counties.
Not only is the pizza delicious (shoutout to the tiny pepperoni cups and crumbled sausage), the rest of their menu is amazing!! Their wings are the best from any local pizza joint. They also have delicious jojos.
That's just the tip of the iceberg for their menu. They also offer chicken dinners and a range of Specials and Combos that are perfect for groups and parties!
Kraus' also has pretty accommodating hours. They're open from 11am until 9 or 10 every day of the week.
Address: 240 Kent Ave. Hartville, OH 44632
2. DeCheco's Pizzeria
Relatively newer to the Hartville area pizza scene is DeCheco's. But, don't let their age fool you, this place can make a pie!
DeCheco's has all of your standard pizza topping options. I URGE YOU, to try something outside the box, though!
I love most of their Specialty pizzas, but, some of my favorites are the Pickle Pizza, Nashville Hot Pizza, and BBQ Brisket Pizza.
If you're looking to try a new and exciting pizza, you gotta go with DeCheco's!
Address: 1581 Canton Rd. Akron, OH 44312
3. Your Pizza Shop
Your Pizza Shop is another local staple for the Canton area!
Since the 1950's Your Pizza Shop has been crafting great pizzas and expanding throughout Ohio and even into Florida.
Fortunately, for people visiting Hartville, they have a location right in the heart of town!
This place churns out good, classic pizzas and sides. No frills, just good eats!
Give Your Pizza Shop a try if you're looking for a classic pizza in Hartville, Ohio.
Address: 1261 W. Maple St. Hartville, Ohio 44632
4. Bob's Pizza
Another no-frills pizza shop that turns out great food in Hartville is Bob's Pizza.
Heading south towards North Canton, this pizza shop can sneak up on you. BUT, you won't want to miss it.
Their pizza and wings rank among the best in the area! They also offer a variety of subs and chicken options.
On top of all that, they have some very delicious appetizers like Jalapeño Poppers, Fried Pickles, and Mac & Cheese bites.
Bob's Pizza never disappoints!
Address: 10268 Cleveland Ave. NW Uniontown, OH 44685
5. Romeo's Pizza
A growing chain locally is Romeo's Pizza. And, once you try them, you'll see why.
Romeo's Pizza offers delicious pizza and way more. Their menu features pizza, subs, wings, starters, salads, strombolis, and even desserts!
Romeo's is a great one-stop spot. They've got options that everyone will love.
If you're hosting a party, conference, or just hosting family or a group, Romeo's Pizza is an excellent choice you and your crew won't be disappointed with.
**TIP** If you check out their website (linked below) they've got some great deals for online orders!
Address: 854 W. Maple St. Hartville, OH 44632
6. Carlo's Trattoria
If you want to change it up a bit and sit down to a nice pizza, you need to check out Carlo's Trattoria!
This quaint Italian restaurant made our list of the best Hartville restaurants!
They offer a range of delicious pizza options from classics and in-house specialties to make-your-own options.
Carlo's also offers various other Italian staples that are unrivaled in the Hartville area, making it a great choice if not everyone in your crew wants pizza as much as you do.
If you're looking for a family-style restaurant with a story to go along with a fresh slice of pizza, Carlo's Trattoria is the perfect spot for you!
Address: 733 West Maple St. Hartville, OH 44632
7. Aida's Bakery
Now, this one is a bit outside the box of what you're thinking with pizza, but, I'm telling you not to pass it up!
They don't make. However, they make a variety of "Pizza Rolls" that are to die for!!
Aida's also offers a ton of baked goods and food, but for me, you cannot beat their Rolls.
Stopping by Aida's one a day at the Hartville MarketPlace & Flea Market is one of my all-time favorite things to do in Hartville, Ohio!
If you're looking for a great lunch or something to eat while you're walking around the market, you need to try Aida's Bakery.
Address: 1289 Edison St. NW #107 Hartville, Ohio 44632
Conclusion
Hartville offers a handful of amazing pizza spots that you'll love.
Whether you're looking to sit down and enjoy a nice setting, order in, or even walk around the market, the Hartville pizza selection has you covered!
What's your favorite pizza in Hartville? Let us know in the comments!